Learn About Insight - Solving Business Problems
Insight, from Work Informed®, Inc., is a suite of web-based business tools focused on work activity management and activity based costing. Insight's value to you is in increasing your productivity, efficiency, and information accuracy while reducing overall costs and increasing budgetary transparency. Insight increases the effectiveness of managing a dynamic and mobile workforce in a complex business environment.

Insight gives managers snapshot and detailed resources to view workforce activities to ensure that high priority and mission critical actions are accomplished on time and within budget. Insight gives executives, managers, staff, and contractors the tools to work smarter, faster, and at a higher level of productivity and quality. Insight enhances communication and collaboration between individuals and teams.



Insight keeps you connected with the information you need to be successful today.
7 business solutions Insight provides for you, Insight will:


Manage Your Team, Work, and Sales Pipeline with
Your Smart Phone, Tablet, and PC

Insight Enhances Your Operational Excellence, Productivity, and Overall Operational Quality.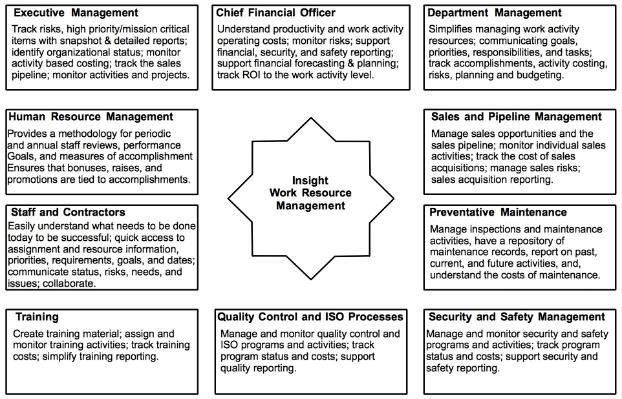 The following presentations and information sheets show how your use of Insight will improve efficiency and effectiveness while reducing your operating costs and ultimately lead to increased profitability.
Presentations:

White Papers:





Insight ROI and Increased Productivity:

Introducing Insight:





Insight Business Area Solutions: